Me First & The Gimme Gimmes – Top Of The World
It's time once again to take a look back at the projects and progress that defined another year at Puckaway. This now the fourth year-in-review post in the series, and it's pretty incredible to binge-read these and see just how much we've accomplished.
Previous years: 2017 | 2016 | 2015
This year's first trip was all about getting work done. Peter, ever the helpful neighbor, was borrowing a SkyTrak and brought it over to trim the trees leaning over the pole barn. This put a welcome hole in the sky and helped me feel a lot less nervous about storms and high winds taking out a building.
Made a quick trip up in mid-January to haul the blue ATV home for plowing, then wasn't back up for a month until I had the first February overnight stay in Puckaway history. It was a welcome respite and recharge after dealing with backyard flooding issues at home.
March began with a full-family trip where everyone pitched in to clean up after the January tree trimming and the Puckanet got some serious Unifi upgrades with new APs and a PoE switch. A second March trip expanded things even further with a new 4G antenna and the Puckaway weather station!
A late and heavy April snowstorm kept us away for most of the month, but there was still time for a few quick trips. We did some spring cleaning and opened the keep for the year, now equipped with a brand new TV.
I started off May with a few short trips, getting rid of some major blight and taming the ever-expanding lawn. The keep's new TV got a nice backlight and soundbar, and I took some time to revisit the plumbing, gutting all the old bathroom pipes and getting the shower set up with a proper faucet. The month ended with a major project, the relocation of the outhouse. Thanks to Jeremiah and his wonderful technicolor dream tractor, we've got a great new spot further from the keep with a high-capacity and sturdy holding tank. I'm hoping it's the last time we have to do something like this.
We kicked off June with a fun family weekend where I still got a lot done. We properly cleaned up and filled in the old outhouse site while leveling out the new one and my chainsaw-on-a-stick got some exercise trimming the overgrowth around the driveway entrance. We were back the very next weekend for the annual June Dairy Days parade, joined this year by the full Voight clan. Farmer Joe and his whole family also made it up for a day. It was a real treat to be up here with my two oldest friends and share it with the families we've built for ourselves.
I ended the month with the biggest project of the year, the Puckaway Electrical Upgrade. With last fall's new power pole in place, I could finally free the keep and pole barn from dependence on the big trailer and correct some sins and shortcuts from my 2011 efforts. Both the keep and pole barn now have proper 30-amp sub-panels run on correctly gauged wire, the outhouse has its own underground power supply, the water pump is now just a circuit run off of the keep, and we've got buried gigabit Ethernet between all three buildings. Most importantly, we could roll the big trailer right out of here now and not impact the rest of the infrastructure. Progress! This was followed with a family trip where I took full advantage of the expanded Puckanet and installed four new 1080p dome cameras and expanded the Unifi infrastructure into the keep and pole barn. We've got three-building mesh WiFi and it's easier than ever to keep an eye on the place.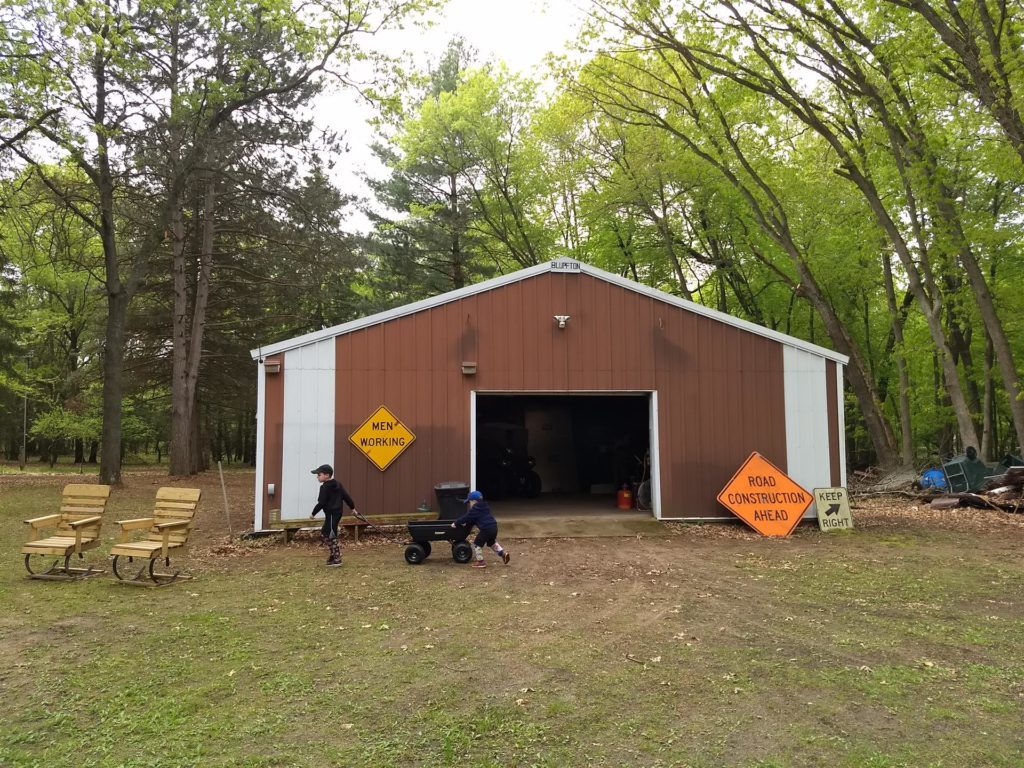 Thanks to a busy camping/vacation schedule, we didn't spend much time at Puckaway for the rest of the summer, but the boys and I returned at the end of August for some overdue lawn maintenance in advance of a large storm in the forecast. That storm ended up being intense, taking out several trees and destroying Dad's deer stand. This led to me spending Labor Day weekend splitting time between Puckaway cleanup and helping my folks get rid of the Mayville property once and for all. During a quick family day trip a week later, I replaced the keep's dead furnace with some fancy new shelves. These were finished off later in September alongside some other minor keep-related repairs.
Predictably, things really picked up in October, with overnight trips nearly every weekend. I gave the pole barn some much needed attention, framing the wall behind the workbench, organizing and moving a bunch of things around, and putting in some new outdoor lighting. I took advantage of the multi-structure hardwired Puckanet by installing an HDHomeRun in the big trailer, and Red came up to help me tear down and burn the remains of the deer stand. With help from Lyssa, the stand was reborn only a week later as the battlement, a sturdy lofted platform that should hold up to even the strongest storms.
Puckaweekend! After a final prep trip the weekend before, Red and I kicked things off by getting his pop-up situated and opening the big trailer. He hung back with the dogs and I made my way to the Appleton airport to greet Sean and our two new CO brethren, Mike and Luby. This year we had the biggest crew yet assembled: myself, Red, Sean, Mike, Luby, Jeremiah, Tach (welcome back!), Runge, Joe Moehr, Farmer Joe, Dusty, and Jordan. Our combined might was formidable and the effects on the grounds immediate and substantial. There's barely anything left of the driveway wood piles now, multiple trees were dropped, and we sent Scrapper Paul off with the majority of the remaining non-burnable outdoor detritus. The battlement was enjoyed by all, Luby learned the true meaning of chooglin', and Red never wavered in his duty to keep us all fed and liquored.
Three generations of Thelen men made their way up in November to make some final adjustments to the battlement to prepare for deer season. I also performed some much-needed repairs and tune-ups on the Husqvarna chainsaw. Jake got to experience his first official Deer Camp later in the month where we got quite the Crown-fueled performance out of Steve and the guys brought down a pair of bucks.
With that, another year at Puckaway is in the books. Another year defined by landscape-redefining projects and sweeping infrastructure improvements and filled with family and fellowship. I don't think I'll ever stop feeling humbled and surprised at how much you all enjoy sharing this place with me, and I think that's a good thing. My heartfelt thanks goes out to all of you for another amazing year.